domingo, agosto 08, 2004
Riot On An Empty Street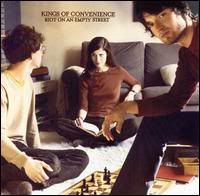 Éste es un gran disco. Es de los

Kings Of Convenience

. Track favorito:

"The Build-Up

". La recomiendo como una de las canciones más hermosas que he escuchado en mi vida, de aquellas que escuchas y te pierdes un rato. En este post los invito a que la bajen de su P2P favorito y se deleiten un rato.
The Build Up
Erlend Oye, Erick Gamblek Boe, Leslie Feist
The build-up
Lasted for days
Lasted for weeks
Lasted too long

Our hero withdrew
When there was two
He could not choose one
So there was none

Worn into the vaguely announced
Worn into the vaguely announced

The spinning top made a sound
Like a train across the valley
Fading, oh so quiet
But constant till it passed
Over the ridge into the distances
Written on your ticket
To remind you where to stop
And when to get off
El disco me parece que supera a "Quiet Is The New Loud" y ha puesto a Erlend Oye en un pedestal muy alto en mi Olimpo de músicos. Otras canciones que valen la pena que escuchen: "

Homesick

", I'd Rather Dance With You", "Misread", "

Love Is No Big Truth

", "Stay Out Of Trouble"